new initiatives . new goals
problem solved . planned . implemented

---
Story One

Run With It Re-engages Community, Nonprofit, Elected, Business, Civic, Educational and Church Leaders In Annual Event

After nearly thirty years, attendance at the annual Leadership Prayer Breakfast had been waning as civic leaders lost interest in the format. The new chairman planned to focus the format on the concerns of city leadership, such as education, jobs and local industry. He quickly realized the event's volunteer base did not have the resources to execute his vision.
"I realized I needed someone with the focus and, more importantly, the expertise to bring the vision to life."
Run With It led a makeover of the event's format and executed a marketing plan to revitalize attendance. Run With It took over management, including all logistics, staffing and outreach.


"I needed someone with ... the expertise to bring the vision to life."


Run With It kept the volunteer committee apprised of progress and some continued to help. Run With It integrated their resources with new resources, methods and systems.

Run With It re-branded the event and developed a new

website

with online registration. Regular email blasts were sent out to communicate event details and to increase awareness and registration. Run With It introduced a rehearsal that minimized technical difficulties during the actual program. Business partners were recruited as a way to use local professional service providers. Recordings of the program were made, edited and sold.

Run With It continued to collaborate until the baton was passed to staff. Attendance had grown from an average of 250 to 360, but more importantly, a wide range of community leaders and servants regularly attend.

Since 2009, event governance has transferred from a community-based committee to the Long Beach Rescue Mission, a nonprofit organization. Run With It helped facilitate that transition and maintained consistency in customer service and event execution. Today, the event receives press attention, and local media often attends.
"We wanted to grow, and Run With It made it happen. They handled much more than event logistics. They helped us grow our audience, elevate our profile and raise funds."
---
Story Two

Run With It Helps Prominent Charity Event Regain Its Spark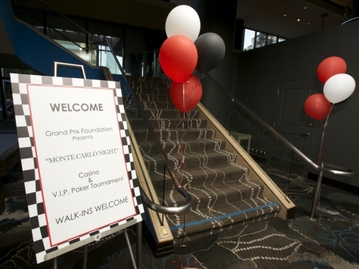 For more than 20 years, the Grand Prix Foundation of Long Beach charity event has been a hot ticket. The event takes place every April on the weekend of the
Toyota Grand Prix of Long Beach
, giving auto race attendees a fun off-track activity and raising much-needed funds for educational scholarships and for organizations such as local children's hospitals and Special Olympics.
The event has taken many forms over the past two decades, with the foundation finding success using a black-tie charity gala theme in recent years. The gala was popular, and a money-maker, but it began to lose its luster as attendees grew tired of the format.
"Last year's black tie event was one of the more disappointing galas we've had in recent years, based on the attendance numbers and also based on the amount that was raised," says Rick DuRee, foundation president. "So we took a good hard look at what we were doing and said, 'You know what, maybe this event's kind of run its course. We need to change things up a bit.'"
---
---

"We need(ed) to change things up a bit."


---

Recapturing the Luster

About six months before the event, DuRee and the rest of the charity's board of directors convened and decided to go back to a theme that had worked well for the foundation about 10 years prior: a Monte Carlo night. This informal theme gives guests a chance to play casino-style games in a lively, energetic setting. But how could the foundation inject the panache, the excitement and glamour that the event—and the organizations it raised funds for—needed and deserved?
Enter Tina Thompson and Run With It. DuRee reached out to Thompson about four months before the event was to take place because, quite simply, "The people that were on the charity gala committee didn't know anything about running a Monte Carlo event," says DuRee.
In past years, the foundation's charity events were run almost exclusively by volunteers. This year, however, Run With It came on board and, as DuRee says, "The event was flawless."

The Making of a 'Flawless' Evening

In the months leading up to April, Thompson worked with volunteers, decorators, local restaurants and the event's gaming rental company to organize, plan, and map out the evening. Under Thompson's direction, the ballroom—located in a hotel directly across the street from the racetrack—was transformed into an ornate venue that was worthy of hosting this significant charitable event.
"When you walked in, you were kind of socked over by the whole atmosphere," says DuRee, "and [Run With It] made that happen."
During the event itself, Thompson served as the point person, ensuring everything ran smoothly. If a vendor or volunteer had a question or problem, she was the one to handle or solve it. This left DuRee and other board members free to fulfill their duties as hosts, welcoming and mingling with guests, including the celebrity drivers, media members, and prominent local community and business leaders who attended.
In the end, the evening was a rousing success. "Every single person walked out saying, 'This was wonderful; do it again. I had a great time,'" says DuRee.

The Future Looks Bright

After the event, Thompson worked with the foundation to create a financial reconciliation of the evening. DuRee says he expects big things for the charity event moving forward.
And of course, behind that rousing success stands Run With It. "They are willing to understand what their clients' direction is and then follow through on that," says DuRee. "And when you get done, the end product is something you have been looking for all along."

---
Story Three

Run With It Ensures A Strategic Program Is Successful

Sullivan International was hired by utility giant Southern California Edison (SCE) to manage its Supplier University program. The program's goal was to identify and educate a diverse range of suppliers that SCE could leverage to support its operations.

Supplier University consisted of full-day workshops that Edison staff, management, executives and procurement representatives attended to meet potential suppliers. The program also comprised of networking events and employee forums, and provided business counsel to suppliers.
Along with the University events, Sullivan International handled general networking and workshops as a first entry point and connection for suppliers to SCE. These workshops were typically attended by 60 individuals, representing various industries and stages in their business life cycle. Consultants were brought in to teach.


Sullivan International subcontracted Run With It to manage SCE's Supplier University program. Run With It

played a central role

in developing the project plan, creating training content, coordinating workshops across SCE's facilities, handling logistics and managing documentation. Run With It also helped market the program to potential suppliers and interfaced with SCE staff.

Run With It secured instructors from the Tuck School of Business at Dartmouth to travel from the east coast for a three-day Executive Education presentation. A graduation ceremony was held with high-level SCE staff in attendance.
The program stretched over a year and a half and was the source of critical new supplier relationships for SCE. "This was a very strategic account for Sullivan International and Run With It was front and center in making the program a tremendous success," says Chuck Bray, SI president.
---
Epilogue

"Run With It integrated nicely with our project team, enhanced progress we already made, and showed commitment to our special athletes."

-- Monica McDade, Vice President Individual Philanthropy;

Special Olympics Southern California

"Tina at Run With It is a

true professional

-- everything she does is with full commitment and integrity, and with every detail accounted for."

-- Marina Glazman, Founder and CEO;

Suitely