Attending to Achieve Business and Personal Growth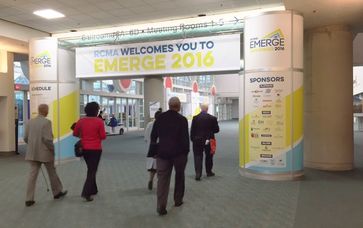 Thousands of annual trade shows, conferences and conventions are held in the United States each year, spanning the coasts. Apparel and clothing, cosmetics and beauty products, industrial products, business services, hospital and medical, and automotive are a sampling of the industries involved in sharing best practices.
What makes the regular trek for suppliers, investors, government officials, owners, department heads and 'fans' worth the time, effort and expense? There are a number of benefits to business and personal growth.
Keeping Up with Industry Trends
As new industry tools emerge, developers, manufacturers and suppliers are motivated to demonstrate what they have to offer and end users benefit. Think of the apps prevalent in your industry. How did you first hear about them and experience their value? At a recent
event planners' convention
in San Diego, a mini-workshop hosted by a supplier focused on event planning apps and SaaS solutions such as
Smartsheet
,
Wrike
, and
eShow
. The workshop was popular as it highlighted current trends and was practical.
What about customer changes in behavior? Attending a trade show might bring to light how the economy is affecting your industry by changing consumer patterns. Participating will help prepare you to react to a new trend before competitors in your immediate service area. Success often requires anticipation of change and immediate adjustment to a new reality.
Connecting with Industry Leadership
Thought leaders attend trade shows and often host mini-conferences or workshops. The tips, tools, and experiences they share can protect you from mistakes. In fact, a trade show is a great place to locate a business mentor because attendees possess applicable interest and experience.
After the conference, regularly use Skype or LinkedIn to connect with your new mentor. Before the next annual gathering, schedule coffee and reconnect for an in-person discussion. Be prepared with specific questions. Over the years the association will deepen and you should sense its value.
A relationship I made over ten years ago at a conference continues to be relevant in helping me grow professionally and personally. And, during that decade, the business and economic environment has changed tremendously. We walked through it somewhat together.
Taking a Break from the Routine
Trade shows provide a new rhythm to your day. Depending upon the program, you will have the ability to rest and reflect simply because you are separated from everyday tasks. The new environment, timetable and conversations grant a different perspective. Something simple like access to diverse menus can go a long way in breaking up your routine. The entire environment may spark new commitment to your industry. Imagine leaving with renewed passion and a clear vision.
Conducting a Location Survey
Take note of the venue, food, activities, climate, cost of travel, and customer service while attending a trade show. Use it to build a destination and supplier list such as tour bus services, unique locations, local talent, caterers, audio visual providers, and cleaning crews for hosting your own conference or staff retreat. A local youth choir dazzled us at a recent convention. I left confident they would collect multiple performance requests for future events.
Or, maybe you are open to moving your business location. Stay an extra day, tour the city and ask stakeholders about support services available for your industry. Schedule time to meet with city leadership and assess their business-friendliness. Determine if their consumer and business tax structure, private and public services, encourage or hinder business success. The local Chamber of Commerce might be worth a visit, as well.
Experiencing the local economy, evaluating the local education system and workforce, and taking note of the area's attractiveness to long-term employees are valuable accomplishments informing a decision to relocate.
Have you attended a trade show in the last few years? If not, you might consider what is available and book yourself or a team member. Support systems, consumer response and economic environments change quickly. For the good of your business and personal enrichment, consider making the experience a regular appointment on your calendar.
To assist your new endeavor, here are the top
100 USA Trade Shows
.