How to Keep Marketing Plans on Track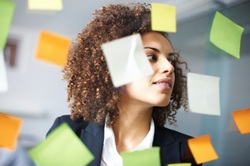 Sticky notes, cork boards and stacks of paper are often 'tools' used to manage important details. Each becomes the go-to method because at first glance they seem easy and effective, even in marketing departments where project details are abundant.
The default options are risky for a number of reasons, however. While sticky notes are useful in brainstorming sessions, they are overwhelming when used to manage a project. It is not uncommon for a single, small marketing project to require dozens of notes. It is physically impossible to share sticky notes with multiple team members, vendors and stakeholders. Adding task updates and additional information is also challenging due to their small size.
Locating important information in a stack of someone else's paperwork is clearly not the best option, either. And, if stacks of paper are not effective, team members will attempt to rely on their memory. When our mind is full, it is extremely easy to forget who, what, why, how and how much, in order to complete the job successfully. When deadlines are missed no one is clearly responsible for the error.
An online collaboration tool such as
Wrike
is a smart choice for keeping marketing plans on track. The tool keeps tasks, due dates, files, notes, milestones, and overall goals in one location that is accessible online. Multiple approved stakeholders can easily interact with the data and each other 24 hours per day using a desktop, tablet or smartphone device.
Marketing projects require constant communication. Text and graphical revisions, budget and cost structures, approvals and deadlines are all better served through ongoing dialogue. Wrike and online collaboration tools like it minimize or altogether eliminate ruffling through paper stacks, sharing sticky notes, and relying on the memory of overloaded team members.
Stakeholders will be thrilled as project results should bear the image of a well organized and communicated project plan.