Unsolicited funds are not always a gift.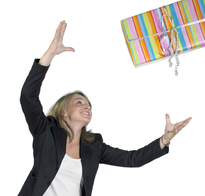 An organization's strategic plan provides the guideline for team activities by mapping out quarterly goals. It takes many hours, days, months, discussions, and possibly heartache to solidify a Plan and incorporate it into the organization's daily activities. Every decision made uses the Plan as a foundation, since it takes into account who you are, where you want to go, the steps to get there, and the time frame in which to do it.

Even with a clear road map, however, it is easy to become side tracked. Sometimes a path of least resistance unexpectedly appears and leaders anxiously pose ready to embrace it with both hands.

A nonprofit executive may find themselves responding to the generosity of a philanthropist, while a for-profit leader may come across an enthusiastic investor. Each suggests a project they are personally motivated to fund. Even though the project would ultimately be a distraction, a well intentioned executive director or CEO is enticed by the unanticipated revenue.

While it is tempting to force fit a well funded project into a strong strategic plan, there are rewards for leaving unsolicited funds on the table. First, staff will continue to enjoy clear direction in their daily and quarterly goals. Second, each department will exude a proactive, not reactive, budgeting process. And third, the organization as a whole will have a more focused and disciplined approach to implementing its strategic plan.

The key to staying on track is locating donors and investors excited to fund projects clearly articulated in the strategic plan. A Request for Proposal (RFP) is one method of communicating your organization's direction and needs to potential supporters. An RFP process, along with the strategic plan, provides rationale for bypassing unsolicited revenue and the corresponding project, which is essential to remaining focused on the Plan team members strove to incorporate.